dnata
dnata is the fourth largest combined air services provider in the world with a global network presence in more than 75 airports in 38 countries and territories in Asia, Australia, Europe and the United Arab Emirates. Since its formation in 1959, dnata has grown through a series of strategic acquisitions in Australia – where we operate under the brand of Toll dnata, Iraq, Manila, Singapore, Switzerland and the United Kingdom.
We are a performance-driven organisation and a global player in niche markets. Our vision is to become not the biggest, but the most admired and unequivocally the best in the eyes of our customers.
Our efforts have been recognized by receiving top accolades such as the 'Ground Handler of the Year' award at the 2014 Cargo Airline of the Year Awards as well as the 2014 Air Transport News Awards.
Safety is Our Priority
In our business, high performance and service excellence are essential but safety remains paramount for dnata. We encourage an inclusive safety culture in dnata by ensuring that every dnata employee, from operations to senior management, values safety as the highest priority.
Globally, dnata runs the One Safety programme, engaging all employees and contractors to adopt good leadership and teamwork practices by reinforcing safe habits through observations and feedback, and using a behavioral approach to accident prevention and improving safety performance.
Passenger Services
Our focus on customer service excellence ensures that your passenger receives a seamless travel experience. All dnata customer service staff are trained to facilitate a quick and hassle-free check-in at the counter, and provide assistance to address the needs of your passengers.
 Premium Services
At dnata, we offer a range of premium services and go the extra mile to delight even the most discerning of travelers. More than just making them feel welcome, your passengers will also be able to enjoy a comprehensive suite of privileges such as Meet and Greet Services for arrival and departure, as well as our Premium Passenger Lounges at Terminal 1 and 3.
Ramp Services
In ramp handling, every second counts and we are dedicated to ensuring that your aircraft's tight schedules are met. Our integrated one-stop service centre is a seamless extension of your airline to ensure safe and timely operations with the following services:
Aircraft Interior Cleaning
Station Representation and Supervision
Aircraft Loading/Unloading
We are fully conversant with each airline's safety procedures and operating systems, and are qualified and experienced in handling a range of aircraft types, from executive jets to B747s, the superjumbo A380, and new aircraft types such as the B787 Dreamliner.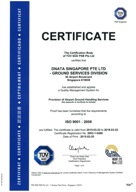 Ground Dispatcher
dnata is the only ground handling agent in Singapore offering this service. The Ground Dispatcher will manage the turnaround process from both the above-wing and below-wing perspective. A strong focus is placed on overall coordination and timely completion of all activities to ensure on-time departure of flight.
Cargo Services
Our Cargo Services team is on standby to help you meet the challenges of delivering products to your customers when and where they need them and in the shortest possible time.
This is where more than three decades of experience makes a difference. We have seen and handled cargo of all kinds, shapes and sizes and today, we are well placed to provide the best fit for your cargo handling requirements.
dnata Singapore is compliant with the requirements of the Regulated Air Cargo Agent Regime and maintains a Government Approved known shipper program. The dnata Cargo Centre is also ISO 9001:2008 certified to handle a wide range of cargo.
To us, it is not just cargo, it is our commitment to delivering superior quality, reliable and efficient cargo services so that you can deliver on the promises to your customers.
Coolchain
Coolchain is dnata's dedicated perishable handling center, built to manage your perishable cargo that passes through Singapore Changi Airport.
The facility has designated product holding rooms for loose and intact cargo, dedicated build-up and break down stations, and chilled and frozen storage for handling cargo such as fresh fruit, meat and pharmaceuticals.
Opened in August 2013, Coolchain is a S$4 million investment by dnata to ensure that your perishables get to their destination as fresh as the day you ship them and in the shortest time possible. The centre will increase Singapore Changi Airport's perishable handling capacity by 75,000 tonnes annually.
The 1,400 square meters centre is equipped with the latest cold storage technologies and designed to handle and process a wide range of products. Modular cold storage areas, each with its dedicated climate control capability adjusted to freezing minus 25°C or cold room conditions of 0 to 25°C, ensure that your products are kept at their optimum condition.
A web-based monitoring system facilitates real-time management of all areas, and provides a one-stop audit trail essential to assuring the quality of product handling.
Catering Services
Today's sophisticated passengers may demand only the very best for their in-flight selections but with dnata, catering to every palate is a piece of cake.
To satisfy the taste buds of your every discerning passenger, our team of experienced chefs who constantly strive for creativity and the highest culinary standards to deliver on taste and quality.
The team also comprises food microbiologists and qualified hygiene officers who conduct daily laboratory testing and inspection at every stage of food preparation to ensure that all meals meet stringent hygiene benchmarks before being delivered to your aircraft and passengers.
Reliability is the key to our operations. We are an ISO 9001/HACCP certified in-flight caterer and our flight kitchen operates on a "flow and communications" system that tracks the flow of orders with precision and is equipped to handle approximately 6 million meals annually.
Website: www.dnata.sg
Address: 50 Airport Boulevard, Singapore Changi Airport, Singapore 819658
General inquiries:
Tel: (65) 6511 0288
Fax : (65) 6542 6604
Contract and commercial:
Tel: (65) 6511 0168
Email : commercial@dnata.sg